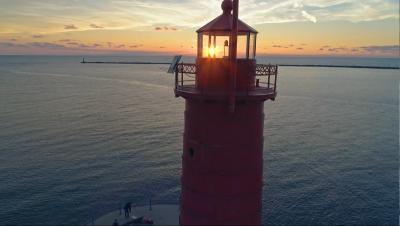 (July 24, 2019) Muskegon Lake, a Great Lakes Area of Concern is pivoting from contaminated AOC into a revived ecosystem with a new era of tourism and recreation thanks to significant investments in remediation and restoration.
Last month, the West Michigan Shoreline Regional Development Commission (WMSRDC), held a community forum where they showed a video titled Back from the Brink which tells the story of Muskegon Lake's environmental history. This documentary by Great Lakes Outreach Media highlights the progress in environmental restoration from Muskegon's historic lumbering and industrial past. 
On May 15, 2019, the video was premiered for a packed audience at Muskegon's Frauenthal Theater. A public forum followed a showing of the video with comments and remarks by key stakeholders at the Federal, State and local level, including remarks by Marc Tuchman (US EPA Great Lakes National Program Office).
As of 2019, US EPA and the State of Michigan have invested $41 million dollars in the remediation of contaminated sediments in the Muskegon Lake AOC. These efforts, supported by the Great Lakes Restoration Initiative, have helped Muskegon Lake become closer to being delisted as a Great Lakes Area of Concern.
The video was produced in coordination with the Muskegon Lake Watershed Partnership and WMSRDC as well as Michigan's Environment Great Lakes and Energy (EGLE).