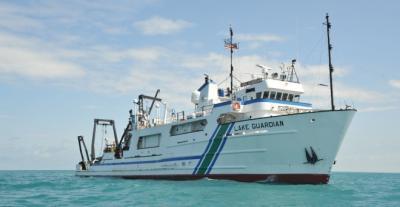 On August 1, the EPA Research Vessel Lake Guardian left port in Milwaukee to begin the 36th season of the EPA Great Lakes National Program Office annual summer water quality survey of Great Lakes open waters.
GLNPO samples all five Great Lakes twice each year, with a spring survey occurring in March–April and a summer survey in August. On this year's summer survey, the Lake Guardian will sample 95 long-term open water sites in lakes Michigan (21 stations), Huron (17 stations), Erie (22 stations), Ontario (12 stations) and Superior (23 stations).
The following chemical, physical and biological properties are assessed during the summer water quality survey in all five Great Lakes:
Chemical/nutrient parameters:

phosphorus,
nitrogen,
particulate organic carbon,
dissolved organic carbon,
reactive silica,
and chloride

Physical and water quality parameters:

water temperature,
conductivity (a measure of conductive ions such as dissolved salts),
total suspended solids,
dissolved oxygen,
pH,
alkalinity,
light attenuation,
and Secchi depth (a measure of water clarity)

Biological parameters:

phytoplankton such as algae,
zooplankton,
Mysis (small, shrimp-like crustaceans),
benthic invertebrates, or animals that live in bottom sediments,
and chlorophyll a, green pigment that is responsible for photosynthesis and is used as a proxy estimate of photosynthetic activity and phytoplankton biomass.
Analyzed together, these measurements help EPA track whole-lake responses to environmental stressors such as invasive species (i.e. zebra and quagga mussels), chemical contaminants and elevated nutrients such as phosphorus and nitrogen. 
GLNPO and its activities, such as water quality surveys, are funded under the Great Lakes Restoration Initiative.