Post Date
August 21, 2019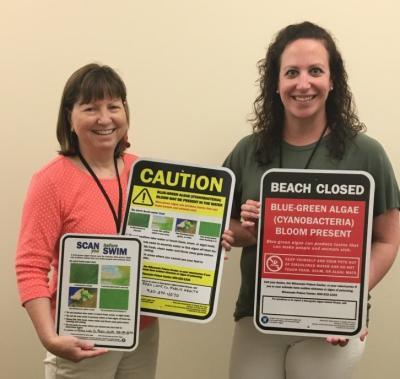 (Aug. 21, 2019) The Harmful Algal Blooms (HAB) Program at the Wisconsin Department of Health Services, Division of Public Health, which receives GLRI support through the CDC, worked hard this year to develop the state's first set of blue-green algae beach signs.
The work began in April when the HAB Program issued a call for draft reviewers from Wisconsin local public health and tribal agencies. Ten individuals representing seven local health agencies, one tribe, and one natural resource department participated in the workgroup and provided feedback on the design, layout, and language on each of the four signs.
The signs include "Caution," "Scan Before You Swim," and "Beach Closed." The HAB Program also developed a sign titled, "Is it Blue-Green Algae…Or Something Else?" This sign illustrates common blue-green algae bloom conditions in Wisconsin as well as non-harmful water conditions often confused with blooms. Download the poster (PDF, 1 pg., 3.66 MB)
The arrival of these signs is timely, as requests for signage templates from local health departments have grown, and water bodies continue to experience and be at risk for blooms. This includes Lake Superior and other areas within the Great Lakes basin.
In Wisconsin, the authority for posting blue-green algae-related beach signage lies with local public health agencies and tribes. Signs are typically posted at public access points, such as beaches and boat launches. The state's Department of Natural Resources may post signs if water bodies in state-owned and managed parks and shorelines are affected by blooms.
If you visit Wisconsin this summer, keep an eye out for these signs. Not all locations will have them, however, so it's important for individuals, including parents and pet owners, to always assess conditions themselves before getting in the water.
To learn more about blue-green algae and their health effects, and for tips on keeping your family's visit to the lake safe and healthy, visit www.dhs.wisconsin.gov and search "algae."