Post Date
September 20, 2019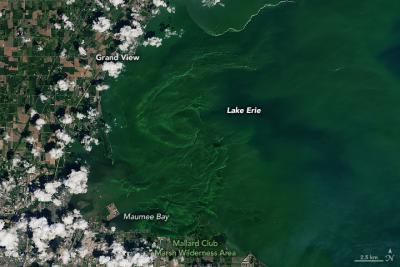 (Sept. 23, 2019) On September 23, the U.S EPA Research Vessel Lake Guardian departs from Cleveland to begin a 5-day research survey as part of the 2019 Cooperative Science and Monitoring Initiative on Lake Erie.
The scientific objective of the survey is to examine how harmful algal blooms (HABS) and bottom hypoxia (lack of oxygen) are driving change in the structure, function and dynamics of Lake Erie's food webs.
This research will examine how the presence of HABs and hypoxia can affect the quantity and quality of prey available to the ecosystem's top predators (walleye and yellow perch). It will help us understand how toxins produced by HABs, such as microcystin, are distributed throughout the water column, as well as within the food web.
Earlier HABs/hypoxia cruises were conducted this past July and August using the RV Lake Explorer II (operated by the U.S. EPA Office of Research and Development) and the CCGS Limnos (operated by Environment and Climate Change Canada and Department of Fisheries and Oceans, Canada). 
Questions the survey will address
This research will involve intensively sampling inside and outside of:
HABs
hypoxic zones
areas of combined HABs and hypoxia
Here are the questions it's designed to answer:
How does the composition of microbes, phytoplankton, zooplankton and fish differ among areas inside and outside of HABs, hypoxic zones and areas of combined HABs and hypoxia? 

How does the movement, behavior and distribution of higher consumers (zooplankton and fish) vary in the presence of one or both stressors? For example:

Are these organisms "squeezed" between surface-dominated HABs and bottom hypoxia?

Is diel vertical migration, or migration that happens between day and night, disrupted?

Do higher consumers actively use HABs as a refuge from predation, or actively avoid them?) 

Do production and energy transfer between primary producers (microbes, algae), secondary consumers (zooplankton), and tertiary consumers (planktivorous fish) differ among areas? 

Does the quality of higher consumers decrease in the presence of one or both stressors?

What role does food web transfer play in the accumulation of cyanotoxins (microcystin) in the edible tissue of fish?
Survey Partners
U.S. EPA
Illinois-Indiana Sea Grant
Ohio State University
Department of Fisheries and Oceans, Canada
U.S. EPA's Great Lakes National Program Office and its activities, such as Lake Guardian surveys, are funded under the Great Lakes Restoration Initiative.