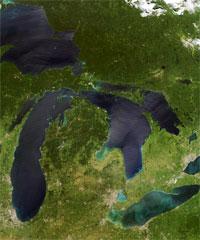 EPA announced GLRI grant awards in fall 2017:
EPA announces $1.5M in grants to improve water quality in Grand Traverse Bay, Michigan
three grants totaling more than $1.5 million for invasive species control and urban watershed management in Grand Traverse Bay, a bay of Lake Michigan in the northwestern lower peninsula of Michigan.

The Nature Conservancy - $550,070
The Grand Traverse Conservation District - $539,605
The Watershed Center Grand Traverse Bay -  $499,989

EPA Announces $2.7M in Grants to Tackle Invasive Species in Wisconsin
five grants totaling more than $2.7 million for projects to control invasive species in Wisconsin.

Bay-Lake Regional Planning Commission - $599,977
Southeastern Wisconsin Invasive Species Consortium, Inc. - $600,000
Wisconsin Department of Natural Resources - $551,669
The Lakeshore Natural Resource Partnership - $598,673
Wisconsin Tribal Conservation Advisory Council - $393,750

EPA awards $220,000 to City of Duluth to protect coastal wetland habitat
$220,000 to the City of Duluth to protect coastal wetland habitat along the shoreline of Lake Superior, including the St. Louis River estuary
EPA provides $550,000 to Lorain County, Ohio, for water quality projects
$550,000 to the Lorain County Board of Commissioners for projects that will improve water quality in the Black River Area of Concern on Lake Erie.
The application deadline was Jan. 13, 2017. These were the funding categories:
Great Lakes Taxonomy and Barcodes to Support Early Detection Monitoring
Invasive Species Control 
Foundations for Invasive Species Collaborations 
Phosphorus Risk Reduction Pilots in Western Lake Erie Agricultural Watersheds 
Agricultural Watershed Management Implementation 
Urban Watershed Management Implementation 
Agricultural Incentive Program Effectiveness