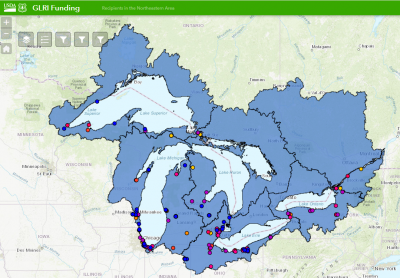 (April 2018) The U.S. Forest Service anticipates approximately $3.7 million in new funds will be available for tree planting and restoring native vegetation in the Great Lakes Basin. This funding will be competitively awarded to the best proposals received through the May 11, 2018 deadline at grants.gov.
Who May Apply
State agencies, Tribal communities, nonprofit organizations, educational institutions, and local governments that work within the Great Lakes Basin of Illinois, Indiana, Michigan, Minnesota, New York, Ohio, Pennsylvania, and Wisconsin.
Note:
Applications no longer require the documented support of State Foresters. However, you are encouraged to work with your State forestry agency and research how your project fits into the goals and objectives of the State Forest Action Plan.