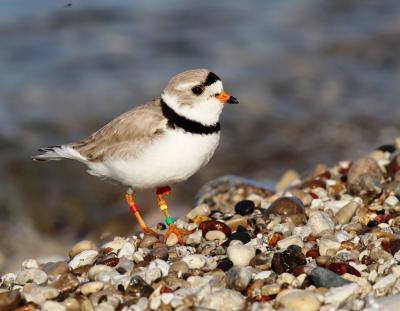 (May 2018) GLRI-funded efforts to support conservation of the endangered piping plover are paying off around the Great Lakes. 2017 proved to be a record year for endangered Great Lakes piping plovers, with 76 breeding pairs located throughout the Great Lakes, a record number of pairs since the population was listed in 1985. The 2017 count is about half way to the recovery goal of 150 breeding pairs.
Thanks to habitat restoration projects funded in part through GLRI, a record eight pairs nested in Wisconsin in 2017. Four pairs were spotted on the shores of the Apostle Islands in Lake Superior, while the number of nesting pairs jumped from one to four at the Cat Island chain in Green Bay, where recent habitat restoration work proved beneficial. This comes just a year after a pair nested at the site for the first time in more than 75 years and successfully fledged three chicks.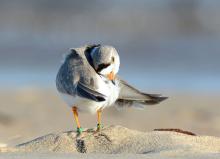 Nesting Great Lakes piping plovers returned to Lake Erie in 2017, when two pairs of plovers nested on Gull Point at Presque Isle State Park, Pennsylvania. This was particularly exciting, not only because it was the first plover nest on Lake Erie since 1977, but it was the first time piping plovers were nesting on all five Great Lakes in the same season since 1955. They've returned in 2018.
Since 2014, GLRI funds and dedicated efforts of staff from the Michigan Department of Natural Resources and U.S. Fish and Wildlife Service have helped restore nesting habitat for the endangered Great Lakes piping plover at Wilderness State Park on the Lake Michigan shoreline in Michigan's northern Lower Peninsula. These efforts paid off in May of 2016 when park staff observed a nesting pair on the beach within a restoration area at the tip of Waugoshance Point. The pair produced three chicks, the first young plovers in a decade to hatch at the site.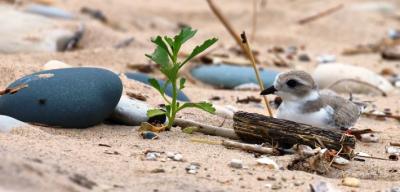 Nesting piping plovers at Wilderness State Park, Cat Island and a growing number of sites around the Great Lakes are not only a sign of hope for the bird's recovery, but also a sign of hope for recovery of the Great Lakes ecosystem as a whole. The Great Lakes Restoration Initiative has undoubtedly played a significant role in this success.
Photos courtesy U.S. Fish and Wildlife Service