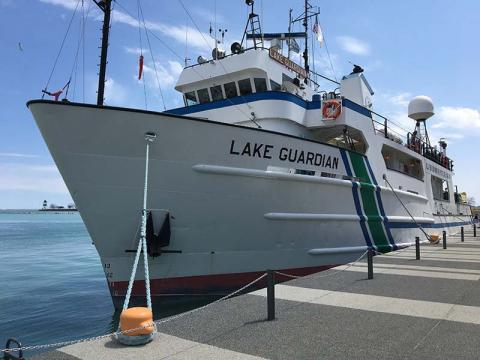 (Sept. 7, 2018) From Sept 9-17, teams from several GLRI partners (EPA, NOAA, and Buffalo State College) will be aboard the EPA Research Vessel Lake Guardian to monitor and map the distribution of bottom-dwelling organisms in Lake Ontario. The survey of the lake bottom is part of the 2018 Cooperative Science and Monitoring Initiative and will help scientists and lake management agencies better understand the health of the lower end of the food chain in Lake Ontario. Researchers will use underwater video and grab samples of the lake bottom sediment to estimate the presence and abundance of bottom-dwelling species.
Bottom-dwelling (i.e., benthic) organisms, including amphipods, opossum shrimp (Mysis), mollusks, and insect larvae, are critical components of a lake's food web. Benthic organisms provide food for native preyfish such as Slimy Sculpin, Deepwater Sculpin, Lake Whitefish and also the introduced Round Goby. These species, in turn, support the native top predator in the Great Lakes, Lake Trout. Since the invasion of Dreissenid mussels, juvenile lake trout primarily consume Mysis, while adults consume Alewives and Round Goby.
Collecting data on the composition and health of the benthic community is essential to understanding how energy and nutrients are cycled throughout the lake, and whether changes to those cycles are occurring.
In the September survey, the researchers will pay special attention to the invertebrate species Diporeia, a small shrimp-like creature that was once the cornerstone of the Lake Ontario food chain. Researchers will also look closely at invasive Quagga mussels, which have replaced Diporeia as the dominant benthic species in Lake Ontario.
2018 data will be compared to results from intensive surveys conducted in 2003, 2008, and 2013. In the last Lake Ontario survey in 2013, only a single individual Diporeia was found. The 2018 survey will reveal if Diporeia can still be found in Lake Ontario, or whether the species is potentially approaching extirpation.
This monitoring effort will help Great Lakes researchers better understand:  
How has the Lake Ontario benthic community changed over time?
Is abundance of Quagga mussels in Lake Ontario changing at rates that are different from rates in Lakes Michigan, Huron and Erie?  
If so, what are the reasons and ecological implications?