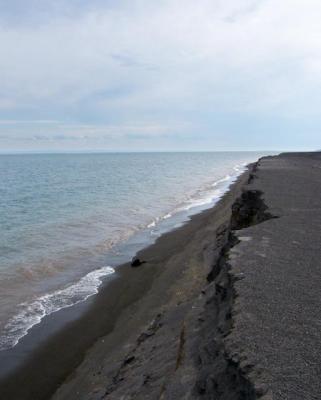 (Sept. 27, 2018) GLRI funding will help protect the Buffalo Reef fish spawning grounds in the Keweenaw Peninsula in Lake Superior. This project will remove an estimated 80,000 cubic yards of stamp sands that are negatively impacting the reef. An additional estimated 27,500 cubic yards of stamp sands will be removed from the harbor area to prevent the stamp sands from moving down current.
Stamp sand is coarse sand created by processing ore in a stamp mill. These stamp sands can physically cover the native reef and render the reef unsuitable for spawning.   
"This environmental improvement project is a perfect example of our district mission to protect the environment and be good stewards to vulnerable habitats that are vital to the Great Lakes ecosystem," said Steve Check, project manager, U.S. Army Corps of Engineers, Detroit District. "Dredging will buy time for the multi-agency team to develop a long-term, adaptive management plan to deal with the estimated 15 million cubic yards of stamp sands that continue to threaten the reef through littoral drift."
This Great Lakes Restoration Initiative project is being executed in cooperation among the U.S. Army Corps of Engineers, U.S. Environmental Protection Agency, Keweenaw Bay Indian Community, Michigan Department of Natural Resources and Michigan Department of Environmental Quality to save the 2,200 acre Buffalo Reef in Lake Superior from the encroaching stamp sands.
Read the full USACE news release