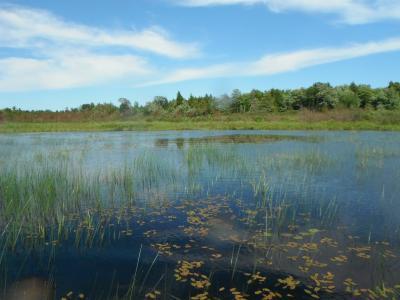 (Oct. 4, 2018) The Superior Watershed Partnership has taken steps to permanently protect two high quality coastal habitats including wetlands and forests along Lake Superior shorelines adjacent to Munising and Marquette, Mich. This long-term protection was made possible using GLRI funding provided by the US. Forest Service for acquisition and development of long-term management plans.
These protection projects will provide immediate public use and educational opportunities to local communities. The development and implementation of long-term management plans are expected to maintain these enriching opportunities for future generations.
Lake Superior coastal wetlands provide important spawning and rearing habitat for Lake Superior's remarkable assemblages of native fish, including species of lakewide management interest like brook trout and lake sturgeon. They are vital to the area's productive and popular fishery – tribal, commercial, charter, and recreational – and they nourish some of the Great Lakes' largest wild rice beds. It is expected that these two projects in combination with other 2018 completed GLRI coastal wetland projects in Lake Superior will protect greater than 10,000 acres.
Superior Watershed Partnership & Land Trust
Lake Superior Land Conservancy Receives $800,000 to Protect Two Threatened Coastal Properties (PDF, 4 pp) 9/26/2018