Post Date
October 15, 2018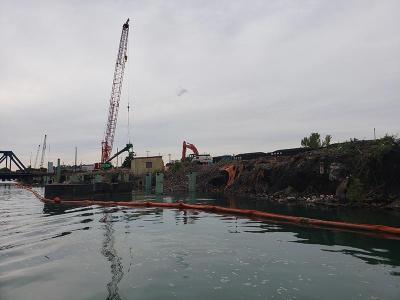 (Oct. 15, 2018) On Sept. 27, 2018, pursuant to a GLRI Economy Act Agreement with EPA, the U.S. Army Corps of Engineers awarded a $15.7 million contract for the dredging of contaminated sediments from the Lower Rouge River – Old Channel (LRROC).
The LRROC site is located in Detroit, in the Rouge River Area of Concern, and is one of two sediment cleanup projects necessary to address environmental impairments in the AOC.
Since 2010, EPA has been working with its non-federal sponsor, Honeywell, Inc., under the Great Lakes Legacy Act to investigate, design, and clean up a 0.75-mile stretch of the LRROC. The recently awarded dredging contract represents the last phase of this multi-year effort and will remove approximately 70,000 cubic yards of toxic sediments contaminated with polycyclic aromatic hydrocarbons from 10 acres of the river bottom. The sediment will be barged and disposed of at the USACE Pt. Mouillee Confined Disposal Facility in Rockwood, Mich.
In addition to dredging, a 1-acre cap will be installed to isolate contaminated sediment that cannot be safely removed due to shoreline stability concerns.
 
In 2017, EPA entered into an Economy Act Agreement with USACE to contract and oversee final cleanup of the LRROC. Dredging will begin in 2019 and is expected to take 12 months.