Post Date
October 16, 2018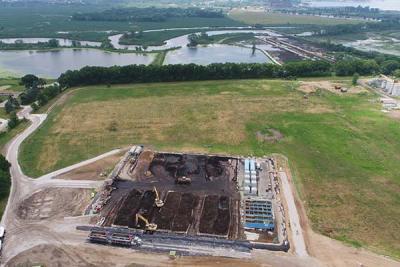 (Oct. 15 ,2018) U.S. EPA, in partnership with the Michigan Department of Environmental Quality, today announced the completion of a $16 million sediment cleanup at the former Zephyr Oil Refinery in Muskegon Township, Mich.
This cleanup, managed by EPA's Great Lakes National Program Office and partially funded by the Great Lakes Restoration Initiative, resulted in the removal of 50,000 cubic yards of contaminated sediment and the restoration of over 14 acres of wetland habitat.
The Zephyr site cleanup caps a successful five-year partnership between EPA and the MDEQ, who worked together under the Great Lakes Legacy Act sediment cleanup program and shared the $16 million cost of the project.
The former Zephyr oil refinery is located in the heart of the Muskegon Lake Area of Concern. While there are still upland areas to be remediated on-site by the state, the GLLA cleanup is a significant step toward the restoration, and ultimate delisting, of the AOC.
An event announcing the completion of the project will take place on Tuesday morning, October 16, 2018. The event will take place at the project site and will feature representatives from U.S. EPA; the MDEQ and MDNR; as well as local elected officials and members of the community.
EPA announces completion of sediment cleanup at former refinery in Muskegon, Mich.