Post Date
October 30, 2018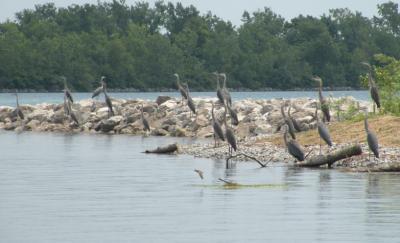 (Oct. 30, 2018) Construction is now complete on the nearly $8 million Stony Island Shoal Habitat Restoration Project in Wayne County, Mich. In terms of the number of acres protected and restored, this is the largest restoration project to date in the Detroit River Area of Concern. A total of 1,350 linear feet of rock shoal in the upper bay and 2,300 linear feet in the lower bay will now protect the 52-acre uninhabited island and surrounding emergent and submergent wetlands from erosion. The funding for this project was provided through EPA's Great Lakes Restoration Initiative.
Both bays are important habitat for the Detroit River and Lake Erie fish stock. The bays provide important spawning grounds for local pike populations and aid the recovery of the lake sturgeon population. Other habitat structures put in place include:
snake hibernation areas
mudpuppy habitat areas
turtle basking structures
bird nesting areas
The project benefits local mammals, amphibians, reptiles and birds, including some species listed as threatened in Michigan. The island's wetlands and tree stand contain the river's largest Great Blue Heron rookery with over 140 active nests. The area also provides habitat for rare and transient waterfowl.
The project completion will contribute to the removal of two Beneficial Use Impairments: Degraded Fish & Wildlife Populations and Loss of Fish & Wildlife Habitat -- significant milestones on the path toward the delisting of the Detroit River AOC.
 
The Stony Island Shoal Habitat Restoration Project was a collaborative effort among many project partners including:
U.S. EPA
NOAA
Michigan Office of the Great Lakes
Michigan Department of Natural Resources
Detroit River Public Advisory Committee
Friends of the Detroit River
Michigan Sea Grant


Lower Bay After