Post Date
November 20, 2018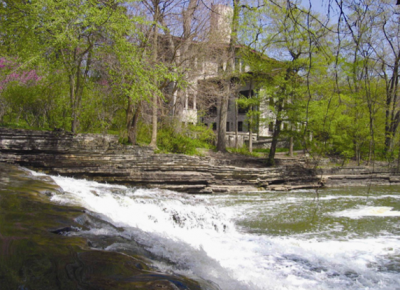 (Nov. 20, 2018) Thanks to the GLRI, construction is underway on the $2 million Henry Ford Estate Dam Fishway Project. Providing fish passage at the HFE Dam has been identified by the Rouge River Advisory Council as a critical step in eliminating long-standing environmental impairments in the Rouge River Area of Concern. In addition, since 1998, the Michigan Department of Natural Resources has identified providing fish passage at the HFE Dam as a priority project for the recovery of the Rouge River fishery.
The HFE Dam is part of the Fair Lane National Historic Landmark site. Fair Lane was the country residence of Clara and Henry Ford. The dam is located 8 miles upstream of the confluence of the Rouge and Detroit Rivers. It is the first dam on the Rouge River upstream of the Detroit River: the first barrier between the Rouge River watershed and the Great Lakes system. The outcome the HFE Fishway project will reconnect 50 river miles and 108 tributary miles to the Great Lakes for the first time in over 100 years via a naturalized by-pass channel. Establishment of the naturalized channel will not only provide fish passage, but improve diversity of fish, macroinvertebrates, mussels, and other aquatic life within the River.  
The HFE Fishway Project is being  funded by GLRI, and is a collaborative effort among many project partners, including: U.S.EPA; NOAA; National Park Service; Michigan Department of Natural Resources; Michigan Department of Environmental Quality; Wayne County; Alliance of Rouge Communities; and the Rouge River Advisory Council.
Construction is expected to be completed in 2019.