Post Date
November 27, 2018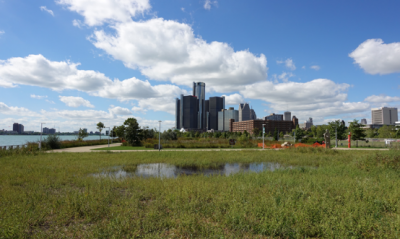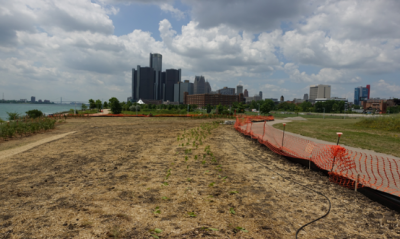 (Nov. 27, 2018) In September 2018, the Michigan Department of Natural Resources completed the Milliken State Park Habitat Restoration Project in the Detroit River Area of Concern. The  $255,165 project was funded by the GLRI through the National Fish and Wildlife Foundation.
MDNR restored native habitats on nearly an acre of property at Milliken State Park located in downtown Detroit and directly across from the Outdoor Adventure Center. The property, previously consisting of a lawn filled with invasive species, was restored to a wet meadow and prairie complex. A mass shrub planting along the Detroit River and small trees will eventually line an existing walkway with shade as they grow.
 
As the project site is very visible to the public, the restored ecosystem was designed to be both functional and beautiful. Showy wildflower species native to the region will bloom throughout the season while also providing nectar for visiting pollinators such as the monarch butterfly. Monarchs were a specific consideration for the project and three species of milkweed, hosts for the monarch caterpillar, were planted throughout the project area.
The habitat design also considered birds, reptiles and amphibians. Native fruiting shrubs will provide cover and food for migrating birds as well as nesting areas for resident birds. Snakes can hibernate in the rocky area built in a naturally low area of the site in which a wet meadow was created. This wet meadow area, which will sometimes fill with standing water, will be home to frogs and toads.
 
The restoration project is one of several throughout the Detroit River corridor restoring habitat for native fish and wildlife. It is one of many projects necessary to eventually remove the Detroit River from the list of 27 remaining AOCs in the U.S.
 
The Milliken State Park Habitat Restoration Project was a collaborative effort among many project partners, including:
MDNR
Michigan Office of the Great Lakes
U.S. Environmental Protection Agency
Detroit River Public Advisory Committee
Friends of the Detroit River