Post Date
November 28, 2018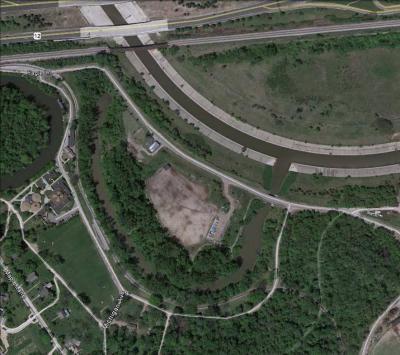 (Nov. 28, 2018) In 2018, construction began on the $1 million Oxbow Restoration Phase 3 Project. The reconnection and restoration of the oxbow (located at at the Henry Ford Historic Site near Dearborn, Mich.) has been one of the highest priority projects identified by the Rouge River Advisory Council to address Beneficial Use Impairments at the Rouge River Area of Concern. Construction of the Oxbow Phase 3 began late fall 2018 and will continue through summer 2019.
 
Continued flooding in the 1970s caused the federal government to channelize part of the Rouge River by constructing a concrete channel to control water flow. This cut off the river's natural oxbow, significantly restricting aquatic habitat.
To restore some of the function of the oxbow, Wayne County, The Henry Ford Historic Site and the Alliance of Rouge Communities began restoration in 2002. The outcome of this first phase was creation of 13 acres of aquatic wetland and upland habitat.
In 2005, Phase 2 established partial connection between the oxbow and the Rouge River.
Phase 3, the final phase, represents over 16 years of effort to restore the oxbow and re-establish full connection with the Rouge River.
Expected benefits from this project are wide-ranging. Reconnection to the Rouge River will help maintain a healthy population of prey species for many resident fish. The oxbow already appears to be a nursery spot for younger individuals and the reconnection to the Rouge River can provide more access to the young fish residing in the Rouge River seeking nursery habitat. The natural shoreline and muddy bottom of the oxbow will provide much needed habitat for native amphibians and reptiles. The project will also include the installation of habitat features that benefit amphibians and reptiles such as basking logs, woody aquatic structure, hibernacula sites, and nesting locations. The oxbow restoration continues to provide a unique opportunity within The Henry Ford Historic Site to provide a forum for experiencing a variety of natural ecosystems and educational opportunities.
 
The Rouge River Oxbow Restoration Phase 3 Project is a collaborative effort among many project partners, including:
U.S. Environmental Protection Agency
National Oceanic and Atmospheric Administration
U.S. Army Corps of Engineers
Michigan Department of Natural Resources
Michigan Department of Environmental Quality
Wayne County
Alliance of Rouge Communities
The Henry Ford Historic Site
Rouge River Advisory Council