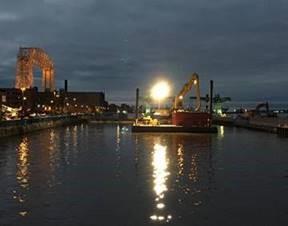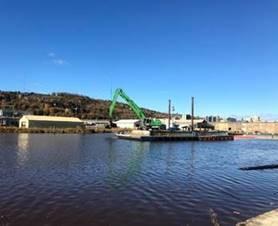 (Nov. 29, 2018) U.S. EPA and the Minnesota Pollution Control Agency have completed the remediation of contaminated sediments in Minnesota Slip, Slip C and Slip 3 in Duluth Harbor in the St. Louis River Area of Concern. This work was completed under a GLRI Great Lakes Legacy Act partnership between EPA and MPCA. 
Photo of barges in Minnesota Slip (night) and in Slip C (day).
Remediation of the three slips included placement of a remedial cap to "isolate in place" approximately 154,000 cubic yards of sediment contaminated with dioxins, PCBs, heavy metals and PAHs. Total project cost was approximately $10 million. 
Other essential project stakeholders included: the U.S. Army Corps of Engineers, the City of Duluth, and the Duluth Entertainment and Convention Center. 
See After Moving a Museum, "Minnesota Slip" Sediment Remediation Project Ready to Begin in Duluth, MN (Sept. 26, 2018)