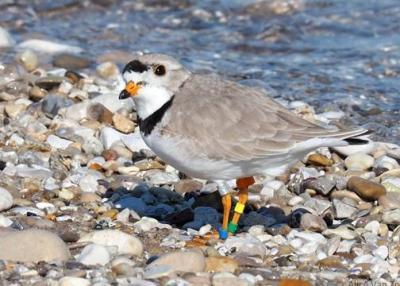 Park Successful in Protecting Rare Shorebird 
(Feb. 1, 2019) Biologists at Sleeping Bear Dunes National Lakeshore (SLBE) work all summer long monitoring and protecting the Great Lakes population of federally endangered Piping Plovers and are seeing success. Sue Jennings, the park's Wildlife Biologist, described the pace of the work over the summer, "It was busy! Our monitoring crew did a remarkable job keeping up with the birds, their nesting activities, and helping to protect them." 
Historically, there were 800 pairs of the small shorebird throughout the entire Great Lakes basin. The population dropped to roughly 12 pairs, nearly going extinct, before being placed on the Endangered Species List in 1986. Today the Great Lakes population of Piping Plovers is still endangered, with only 76 known breeding pairs documented in 2018.
In 2018 SLBE provided protection to over one-half of the nesting pairs of the entire Great Lakes population; over 50% of the chicks that were hatched from the nests in the Great Lakes population and that successfully fledged were from the Lakeshore.
The contribution and importance of SLBE to the overall recovery of the species is significant. While far from the recovery goal, biologists are seeing success in part due to the efforts of many project partners, and support from the Great Lakes Restoration Initiative.
At SLBE the birds have a lot of protection. Once a nest is found, biologists build an exclosure, a wire fence with a mesh top, around the nest site. This prevents predators from taking the eggs, while allowing the incubating adult to pass easily in and out of the nest.
During incubation, each nest is checked daily to make sure that both adults are present and taking care of their eggs. After the chicks hatch they are monitored daily until they can fly.
If something should happen to one of the pair, the other is likely to abandon the nest. In that case, park personnel will carefully collect and transport the eggs to an egg incubation and chick rearing facility operated by the Detroit Zoo and located at the University of Michigan Biological Station. They will then be released back into the wild with other plovers close to their age.
The park also implements programs to educate the public about the birds, their role in the ecosystem, and importantly, about the need to keep pets on leashes and away from beach areas closed to dogs so they don't frighten or prey upon the birds.
More information about Piping Plovers and how to help protect them: