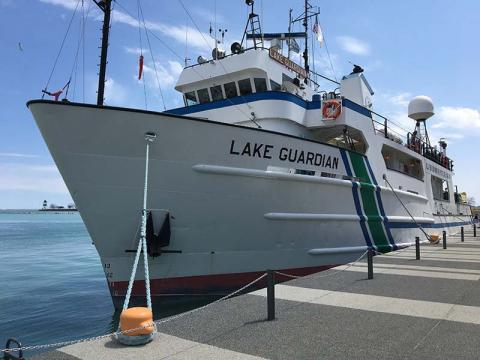 (Feb. 6, 2019) In September 2018, a crew of scientists from GLRI partner agencies (EPA and NOAA) and cooperating universities (Buffalo State College, University of Michigan, Wright State University) spent nine days sampling the bottom of Lake Ontario on the R/V Lake Guardian.
This work was designed to assess changes in species composition and estimate abundance and community structure of bottom-dwelling species. Scientists and crew worked 24 hours a day for several days in a row to collect underwater photos and video, and grab samples from 86 stations throughout Lake Ontario.
This survey was part of the 2018 Cooperative Science and Monitoring Initiative conducted to help scientists and lake management agencies better understand the health of the food web in Lake Ontario.
See a video of a series of 1-second glimpses into the survey