Post Date
February 5, 2019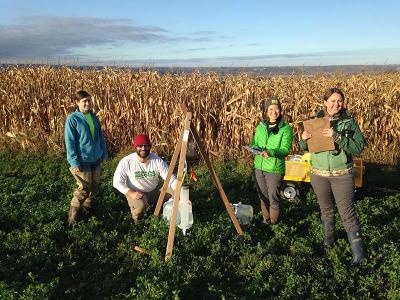 Soil productivity and water quality are essential to successful and sustainable agricultural watersheds. The main goal of this five-year project is to provide fundamental knowledge about the linkages among field management, soil health and water quality.
Through GLRI funding, the Natural Resources Conservation Service, the US Geological Survey, and local partners are monitoring sediment and nutrient export in surface and tile runoff from select farm fields in four priority watersheds of the Great Lakes.
The aim of this edge-of-field monitoring is to document the impacts of nutrient management and cropland conservation strategies on nutrient and sediment loads.
In 2016, University of Wisconsin-Green Bay and Purdue University began soil health monitoring on the same select fields. Baseline assessments are complete and as producers implement conservation actions, the project teams are monitoring soil health and water quality responses. Ultimately, changes in key soil biological, physical, and chemical parameters will be used as early predictors of critical changes needed to sustain crop productivity and meet water quality goals.
This project is believed to be one of the first large-scale attempts to directly link in-field measurements of soil health on producer fields with intensive edge-of-field water quality monitoring.
In FY2018, GLRI funds supported sampling and analyses of soil health parameters on thirteen edge-of-field sites located on agricultural fields across Wisconsin, Indiana, Michigan, Ohio and New York.
Project partners are summarizing the project and results to date at the Iowa 2019 Soil Health Conference Feb. 4-5 in Ames, Iowa.