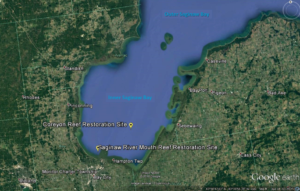 (Feb. 22, 2019) Recently, Michigan DEQ and its partners started a project to restore reefs at two locations within Saginaw Bay. Support for the project includes $980,000 of GLRI funding and $25,000 from the Saginaw Bay Watershed Initiative. Construction is to begin in the summer of 2019 and be completed by the fall of 2019.  
Historically, Great Lakes rock reefs formed as glacial deposits and provided important spawning habitat for many native fish species. This critical spawning habitat was largely lost within Saginaw Bay due to increased sedimentation resulting from land use changes. The loss of rock reefs was a contributing factor to the 1940s collapse of Saginaw Bay's walleye fishery and impacted local populations of Lake Whitefish, Lake Trout, and other native species.
Federal, state and local partners will restore reefs at two locations within the bay, the Coreyon and Saginaw River Mouth Reefs.  This project will mimic naturally-formed reefs by placing approximately 5,000 cubic yards of rock material at both sites.  When complete, this project will restore a 1-acre reef at both sites (2-acres in total) and help to diversify spawning habitat and support a more resilient and diverse fishery.
Supporting Fish Habitat in Saginaw Bay: Restoring fish spawning reefs