Post Date
February 28, 2019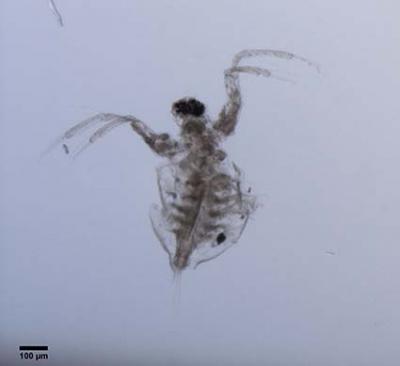 (Feb. 28, 2019) The Red Cliff Band of Lake Superior Chippewa Indians Fisheries Department confirmed the presence of a new non-native species of crustacean zooplankton in Lake Superior, the cladoceran Diaphanosoma fluviatile, during early detection sampling efforts along the Red Cliff shoreline (located along the southwest Lake Superior shoreline) in 2018.
A single specimen was collected in Buffalo Bay, near the Red Cliff marina, in June 2018. Red Cliff's nearshore monitoring program was supported by Great Lakes Restoration Initiative funding awarded to Red Cliff by the Bureau of Indian Affairs.
The US Fish and Wildlife Service reports that the ecosystem risk posed by this species is uncertain because past introductions have not been studied to determine whether impacts occurred.
You can read the Ecological Risk Screening Summary for this species (PDF). Although this is the first discovery of this species in Lake Superior, it has been previously documented in Lake Erie (2015) and Lake Michigan (2018). D. fluviatile is native to South America, Central America, and the Caribbean.
Read more about the first reporting of this species in the Lake Erie by the US EPA and Cornell University through the Great Lakes Biology Monitoring Program