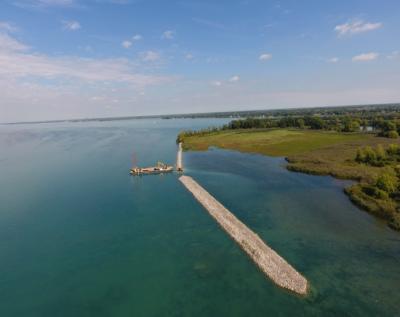 (March 6, 2019) The construction of seven spawning reefs in the St. Clair-Detroit River System was completed in spring 2018. This was a multi-year project to restore fish spawning habitat in the system. Projects completed after 2010 were made possible by GLRI funding to the U.S. Geological Service. 
Pre- and post-construction monitoring evaluated fish use of the restoration sites. It documented immediate and continued spawning and non-spawning usage of these rocky reefs by many fishes, including lake sturgeon, lake whitefish, smallmouth bass, walleye, logperch, and various species of suckers. 
The construction and evaluation of three reefs in the St. Clair River were critical projects that supported the removal of the "Loss of Fish and Wildlife Habitat" Beneficial Use Impairment (BUI) in the St. Clair River Area of Concern.
The three GLRI-funded reefs (Belle Isle, Fort Wayne, and Grassy Island) in the Detroit River are on the list of habitat projects which need to be constructed in order to remove the "Loss of Fish and Wildlife Habitat" BUI in the Detroit River AOC.
Systematic physical monitoring of the reefs documents their maturation. USGS applies findings from earlier-built reefs to improve the performance and efficiency of subsequent reefs. Improvements made include changes in reef location and orientation within the river channel, reef material, and monitoring techniques. 
Developing and executing a long-term maintenance and monitoring plan is the next phase for these projects to ensure the investments are preserved and functional.