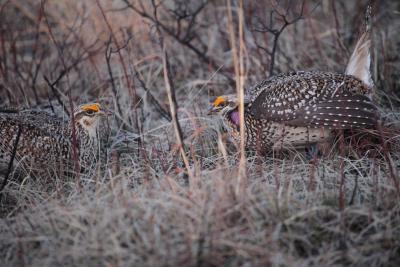 (May 7, 2019) Scientists wanted to restore and provide a genetic boost to the population of sharp-tailed grouse in the Moquah Barrens of the Chequamegon-Nicolet National Forest in northern Wisconsin. As a result, 160 sharp-tailed grouse were moved from northwest Minnesota over a three-year period between 2016 and 2018. This relocation effort is called "translocation" in biology terms because it moves genetic material from one location to another.
The translocation, on-going monitoring, and landscape restoration were made possible by funding through the Great Lakes Restoration Initiative and the U.S. Department of Agriculture Lake Superior Landscape Restoration Partnership. Partners include the Natural Resources departments of Wisconsin and Minnesota, Bad River and Red Cliff bands of Lake Superior Chippewa, Wisconsin and Minnesota Sharp-tailed Grouse Societies, Great Lakes Indian Fish and Wildlife Commission, U.S. Fish and Wildlife Service, and numerous volunteers.
The former Chequamegon and Nicolet National Forests were established in the early 1930s to restore trees to northern Wisconsin that had been heavily deforested and burned in the logging industry. The forests were officially combined into the Chequamegon-Nicolet National Forest in 1998. The forest is a series of nature preserves spread between the Minnesota and Michigan borders with headquarters in Rhinelander, Wis. The forest is also home to the Blackwell Job Corps Civilian Conservation Center and Mondeaux Dam Lodge.
Read the full story for the sharp-tailed grouse project on the Chequamegon-Nicolet website