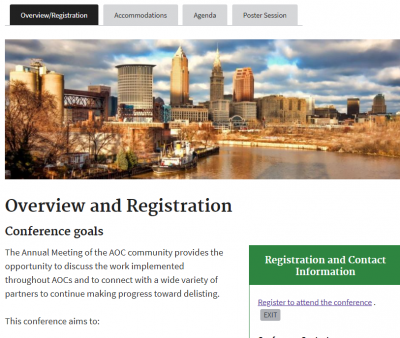 (May 15, 2019) The U.S. Environmental Protection Agency and the Ohio Lake Erie Commission, in partnership with the Ohio Environmental Protection Agency, announce that registration is now open for the 2019 Annual Great Lakes Areas of Concern Conference. The conference will be held Wednesday and Thursday, September 11-12, 2019 at Windows on the River in Cleveland, Ohio.  
State AOC program managers and staff, AOC Advisory Council chairs, private sector interests, academic, AOC leaders and other interested parties are invited.
The conference website features an outline of the agenda, poster session information and accommodation information.
Conference contacts: 
Registration questions: