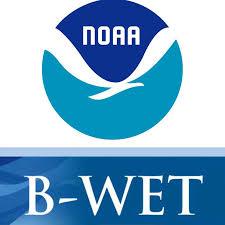 (May 16, 2019) The National Oceanic and Atmospheric Administration has announced the availability of funding through the NOAA Great Lakes Bay Watershed and Training (B-WET) Program. This funding (approximately $800,000) is made available through the Great Lakes Restoration Initiative.
The funding announcement is available on Grants.gov as NOAA-NOS-ONMS-2020-2006058.
Applications are due July 12, 2019.
The Great Lakes B-WET program funds locally relevant, authentic experiential learning for K-12 audiences through Meaningful Watershed Educational Experiences. MWEEs are multi‐stage activities that include learning both outdoors and in the classroom and aim to increase understanding and stewardship of Great Lakes watersheds and ecosystems.
Grant funds support student investigation of environmental topics, leveraging local STEM assets and STEM professionals. Students identify actions to address these issues and understand the value of those actions, enabling them to help to understand, protect, and restore Great Lakes watersheds ecosystems. These experiential opportunities are intended to supplement and enrich the traditional formal learning environment, and target both teachers and students in K-12. 
For more information about this funding opportunity or the Great Lakes B-WET program, please contact Ellen Brody, Great Lakes B-WET Program Manager at the NOAA Office of National Marine Sanctuaries (734-741-2270, ellen.brody@noaa.gov).