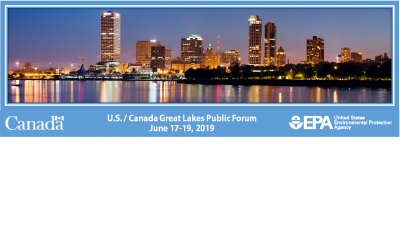 (May 16, 2019) On June 17-19, the United States and Canada will convene the 2019 Great Lakes Public Forum in Milwaukee at the Hilton Milwaukee City Center Hotel. This forum is held every three years according to the Great Lakes Water Quality Agreement, with the purpose of bringing together the governments of Canada and the U.S. to discuss and seek public input on:
The state of the Great Lakes
Progress made under GLWQA since the 2016 Great Lakes Public Forum
Binational priorities to guide science and action over the next three years
The forum will provide an opportunity for the International Joint Commission to receive and discuss comments on the Progress Report of the Parties. The public will be able to weigh in on the implementation and progress of GLWQA.
To secure the group rate at the Hilton Milwaukee City Center (USD $120 per night plus sales tax) call the hotel directly at 414-935-5940 before Friday, May 24, 2019 and mention that you are attending the 2019 Public Forum.