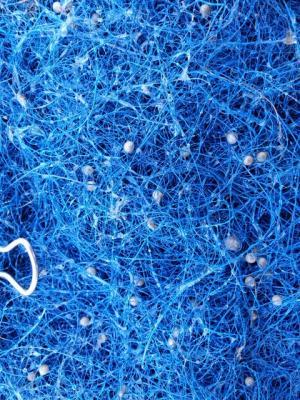 (May 24, 2019) This spring the U.S. Geologic Survey found lake sturgeon eggs on the new Fort Wayne Reef. The reef was constructed through the Great Lakes Restoration Initiative and completed in 2018. The reef is located in a deep, fast flowing section of the Detroit River just offshore of Historic Fort Wayne in Detroit, Michigan.
Many fish need rocky areas in fast-flowing currents to deposit their eggs during spawning season. However, many of the Detroit River's natural limestone reefs were destroyed when shipping channels were constructed and shorelines developed.
The new spawning reef is a bed of loose rock 2 feet thick, covering 4 acres of river bottom and designed to provide spawning habitat for native fish such as lake sturgeon, walleye and lake whitefish. The discovery of lake sturgeon eggs demonstrates another in a series of successfully restored spawning areas throughout the St. Clair and Detroit Rivers.
By developing healthy spawning habitat, this reef construction contributes to removing the "Loss of fish and wildlife habitat" Beneficial Use Impairment within the Detroit River Area of Concern.