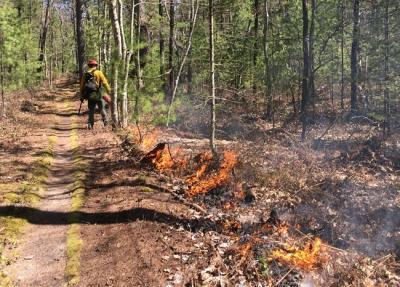 (May 29, 2019) On Tuesday, May 7, firefighters and staff from the National Park Service and the U.S. Forest service conducted the first ever broadcast (wide area) prescribed fire at Sleeping Bear Dunes National Lakeshore. The broadcast prescribed fire successfully burned 917 acres in the Platte Plains, after more than eight years of planning and preparation.
Project benefits will include healthier ecosystems, revival of fire-dependent ecosystems, reduction in fuel for wildfires, and decreased invasive species populations. The Platte Plains area consists of dry northern forest and wooded swales communities, now rare in the Great Lakes region. These unique habitats rely on fire to maintain their community structure. Trees such as red and jack pine need the fire to regenerate while plants on the forest floor rely on the fire for access to sunlight through the canopy.
Crews planning for and implementing the fire, which included staff from Sleeping Bear Dunes and the NPS Great Lakes Fire Management Zone, took into account unique conditions such as the protection of piping plover habitat, two nearby campgrounds, a nearby scenic byway, and in-holdings of private property. The GLRI provided funding for this prescribed fire in support of GLRI goals of protecting native plant and animal habitat and of controlling invasive plant species.
Learn more about the implementation and benefits of the prescribed burns at Sleeping Bear Dunes National Lakeshore