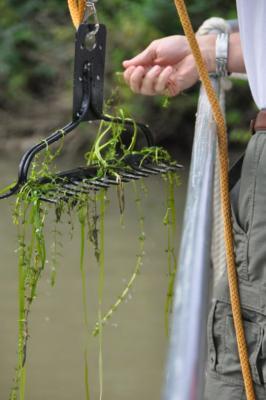 (May 30, 2019) With funding from the Great Lakes Restoration Initiative, the U.S. Army Corps of Engineers and the Engineer Research and Development Center developed a basin-wide risk assessment summarizing the potential for hydrilla introduction in the Great Lakes. The assessment was completed under contract by Ecology and Environment, Inc. and in partnership with North Carolina State University, Texas Tech University, and University of Toledo. 
Hydrilla, invasive aquatic plants first introduced to the southern U.S. in the 1960s from Asia, have more recently infested the glacial lakes of the Northeast and Midwest, including the Great Lakes Basin, and can cause substantial ecological and economic losses.
 
The risk assessment report evaluated potential hydrilla infestations basin-wide in terms of what their impacts would be, where they are more likely to occur, and how extensive their impacts would be by 2025.
Using species distribution and dispersal modeling, the report identified five sub-watersheds that may be most vulnerable to hydrilla introduction, which can be targeted for priority management and monitoring:
southeastern Lake Ontario
St. Clair-Detroit
western Lake Erie
southern Lake Erie
southwestern Lake Erie
It also identified potential economic and environmental impacts that may occur in the Great Lakes as a result of hydrilla introduction and provides recommendations for best management practices. The recommended practices are focused on prevention, early detection, and response, to prevent and control hydrilla infestations. One first step in management is to educate the public, especially water users such as boaters and fishermen, about hydrilla risks. 
Please contact Andrew Kornacki (andrew.a.kornacki@usace.army.mil.) 716-879-4349 at the Buffalo District Public Affairs office about the assessment.