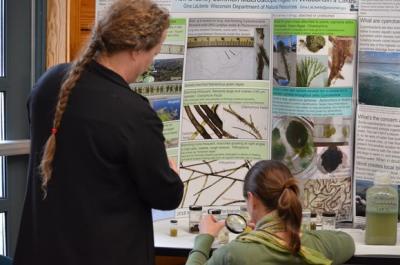 (May 31, 2019) In August 2018, Lake Superior, near the Apostle Islands National Lakeshore, was impacted by a widespread algal bloom that drew significant media attention. To address regional preparedness for blooms in Western Lake Superior, the Wisconsin Division of Public Health's Harmful Algal Blooms Program, which receives GLRI support through the Centers for Disease Control and Prevention, teamed up with the Lake Superior National Estuarine Research Reserve to offer a one-day workshop. "Blooms and the Big Lake" was held at the Northern Great Lakes Visitor Center in Ashland, Wisconsin on April 29, 2019.
Attendees included those in roles related to bloom event education, communication, research, and response. The event drew 40 professionals from diverse fields, including:
state and local public health,
natural and/or water resources management,
academic and not-for-profit research,
outdoor education and outreach,
recreation management,
and land use management.
Workshop sessions focused on an introduction to blue-green algae, regional research and monitoring related to cyanobacteria (blue-green algae) and cyanotoxins, statewide efforts to address Great Lakes beach health, and the public health approach to addressing harmful algal bloom-related illnesses in Wisconsin.
At the end of the day, attendees put their knowledge and diverse skill sets together during a scenario-based group activity related to harmful algal bloom response. Evaluations overall demonstrated that attendees felt the workshop was a good use of their time.