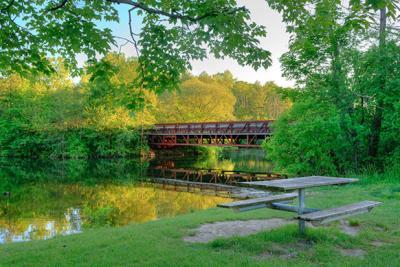 (June 11, 2019) The new Southeast Michigan Resilience Fund, supported in part by the GLRI, has announced seven projects selected to receive $1.46 million to benefit communities and habitats in southeast Michigan. The grants awarded by the National Fish and Wildlife Foundation will leverage $2.5 million in matching contributions to generate a total conservation impact of more than $4 million. These are the first grants awarded by the Southeast Michigan Resilience Fund.
The investments are community-driven and aim to strengthen Southeast Michigan's resilience by:
Installing green infrastructure
Adding more than 2.4 million gallons of stormwater storage
Reducing the threat of flooding and other intensifying environmental stressors.
The projects will also restore critical habitat for wildlife and create or enhance public access to and use of natural areas and parks across five counties in the region.
"The Southeast Michigan Resilience Fund exemplifies the strength of public-private partnerships," said Chris Korleski, director for the U.S. Environmental Protection Agency, Great Lakes National Program Office. "The fund brings together corporate, federal, and non-governmental partners, leveraging Great Lakes Restoration Initiative funds to deliver on-the-ground projects that make a difference in communities by reducing stormwater runoff, restoring habitat and improving water quality in the Great Lakes basin."
The Fund's partners include:
Learn more about the Southeast Michigan Resilience Fund and its seven supported projects.
Read the press release from the National Fish and Wildlife Foundation.