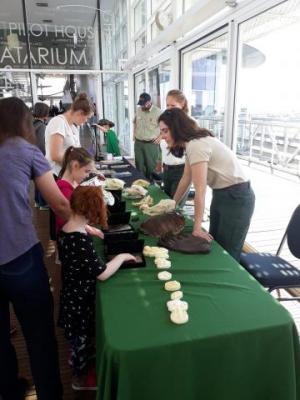 Discovery World in Milwaukee, Wisconsin offered free admission on Earth Day, May 5, 2019, opening its doors to 7,848 visitors from the public and underserved communities.
Forest Service staff were present at booths, educating visitors on their role in helping to provide clean, abundant water as well as aquatic invasive species issues that impact the Great Lakes. Topics and activities covered included native wildlife, invasive species, and fishing tutorials.
The Earth Day event was made possible by funding from the Environmental Protection Agency's Great Lakes Restoration Initiative (GLRI) and a partnership between the U.S. Forest Service and Milwaukee, Wisconsin's Discovery World.
Public education and outreach support the GLRI Action Plan objective of preventing new invasive species introductions and the commitment to blocking invasive species pathways.
Partnership promotes importance of clean, abundant water