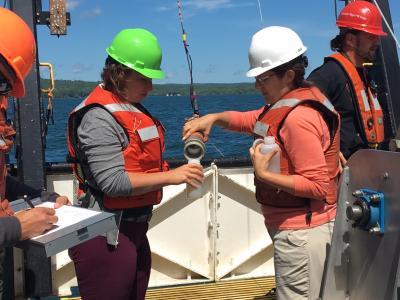 (July 11, 2019) - Fifteen educators from throughout the Great Lakes Basin are having a unique adventure aboard the EPA research vessel Lake Guardian. From July 8-14th, the lucky fifteen are studying Lake Erie as participants in the annual Shipboard Science Workshop.  This GLRI-supported program is a long-running partnership between the EPA and Sea Grant's Center for Great Lakes Literacy.  
This week-long immersive workshop offers first-hand exploration of Lake Erie's ecological, physical, and chemical processes. The educators will work side by side with scientists Ben Alsip (EPA Great Lakes National Program Office), George Bullerjahn (Bowling Green State University), Lorena Rios Mendoza (University of Wisconsin, Superior), and Beth Whitmore (Cornell University).  While traversing Lake Erie, the group will be collecting water, plankton, sediment and plastic.
The educators will analyze the samples while onboard and generate data to address specific research questions focused on harmful algal blooms (HABs), microplastic pollution, and zooplankton abundance. They will present their findings at the end of the week and discuss how they could incorporate what they learned back into the classroom.
There also will be two shore-side visits during the week.
In Erie, Penn. the group will visit Presque Isle for a beach clean-up, tour the Erie Maritime Museum and learn about conducting stewardship projects with their students.  
 
In Put-in-Bay, Ohio, they will spend time at Ohio State University's Stone Lab. While there, they will hear from experts on HABs, experience sampling on a much smaller research vessel, and learn about relevant Great Lakes lessons and other classroom resources.


2016 Lake Guardian teacher cruise
The cruise is designed to promote Great Lakes sciences in education, as well as forge lasting relationships between scientists and educators. Over the next school year, the educators are expected to bring Great Lakes science back to their classrooms and incorporate what they've learned, as well as share with their colleagues.
Read about their experiences on the 2019 Lake Erie Shipboard Science blog.