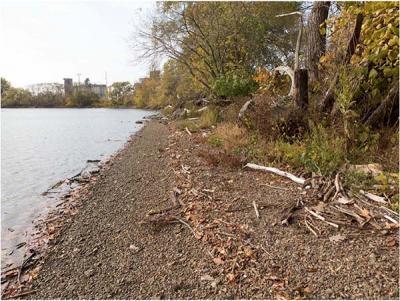 (July 23, 2019) The U.S. Army Corps of Engineers Buffalo District, on behalf of the U.S. Environmental Protection Agency, has awarded a $1.83 million contract for a Great Lakes Restoration Initiative habitat restoration project along 1,900 feet of the northeastern shoreline of the Katherine Street peninsula in the Buffalo River Area of Concern.
To create government efficiencies the EPA has partnered with the USACE to contract out the work and oversee its implementation.  The contract was awarded to Scott Lawn Yard Inc., based in Niagara Falls, New York, on May 30, 2019. The contractor will begin work this summer with anticipated completion of earthwork by the end of September followed by planting and invasive species treatment for the next four years.
Restoring habitat at this location will contribute to the re-establishment of native plants and fish and wildlife populations. This is the last project from the approved list of habitat restoration projects and the last major project that will complete the management actions needed to delist the AOC.
USACE News Release: Corps of Engineers awards contract for Katherine Street Habitat Restoration