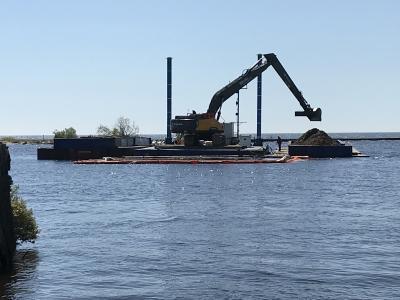 (July 25, 2019) Construction is underway on the $10 million Manistique Dredge Project, which is located in the Manistique River Area of Concern in Manistique, Michigan.
Several cleanup projects to restore the AOC have been completed over the past few decades. Although polychlorinated bipheny (PCB) levels have declined, elevated PCB contamination still requires restrictions on fish and wildlife consumption and on dredging activities. This project's goal is to remove approximately 30,000 cubic yards of PCB-contaminated sediment and woody debris from the harbor. It is the last major project that will complete the management actions needed to delist the AOC.
The National Oceanic and Atmospheric Administration is funding the project through the Great Lakes Restoration Initiative. The project will be led by the Michigan Department of Environment, Great Lakes and Energy, Water Resources Division with oversight by Arcadis. Other partners include the U.S. Army Corps of Engineers and U.S. Environmental Protection Agency. White Lake Dock and Dredge, Inc. will conduct dredging operations.
Dredging is expected to be completed in October, followed by the placement of an activated carbon sand cover in October/November and final site restoration in spring 2020.