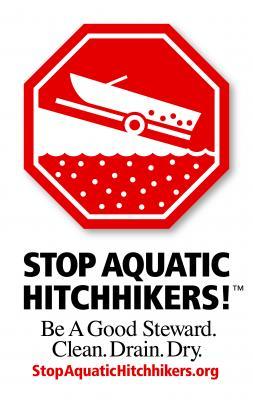 (July 29, 2019) From June 28 to July 7, 2019, partners at hundreds of water access sites in the Great Lakes region participated in an Aquatic Invasive Species Landing Blitz. This event was designed to inform boaters and the public about the risks of introducing and spreading AIS in the lakes.
The AIS Landing Blitz was held at hundreds of water access sites throughout the Great Lakes region. Volunteers and state agencies were present at boat launches, teaching boaters and others how to recognize and report invasive species.
Minnesota hosted Landing Blitz activities at five locations, from 9 a.m. to 3 p.m. on Sunday, June 30.
The 1854 Treaty Authority partnered with the Minnesota Department of Natural Resources and Minnesota Sea Grant to host activities at Rice's Point Landing on the St. Louis River in Duluth, MN. At the event, invasive species staff and a conservation officer were present to inspect watercraft, discuss protocols for reporting an AIS discovery, and to explain local AIS laws and regulations.
The GLRI helped support the 1854 Treaty Authority staff that were present, in addition to outreach materials they brought. Outreach materials and AIS specimens were used to educate the public on procedures used to prevent the spread of AIS and identification. In total, 18 people were contacted and six boats were inspected at Rice's Point Landing.
The goal of the event, the first such exercise across all regions in the Great Lakes simultaneously, was to educate boaters and the public on the importance of recognizing and reporting AIS.
The Stop Aquatic Hitchhikers Campaign recommends several basic steps to prevent AIS introduction and spread:
Always pull vegetation from the boat.
Pull out the boat's drain plug when coming to the landing and when leaving the water.
Use a separate water source if you have bait and want to keep it alive – there shouldn't be any transformation of water in livewells and baitwells.