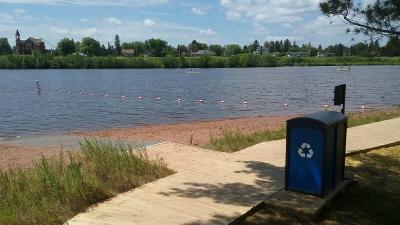 (July 30, 2019) The Wisconsin Department of Natural Resources and the City of Superior have completed a beach restoration project through the Great Lakes Restoration Initiative at Barkers Island Beach in Superior, Wisc.
The Barkers Island Beach had high bacteria levels that led to frequent swimming advisories and beach closures. A restoration project has been implemented to reduce beach closures as part of the "Beach closings" Beneficial Use Impairment for the St. Louis River Area of Concern. 
Project features include:
Shoreline vegetation to deter waterfowl and gulls from using the area
Vegetated swales
Pervious parking
Tree and shrub plantings and wetland enhancements to reduce the storm water runoff
The addition of beach sand for proper beach slope
An elevated boardwalk
Additional trash and bathroom facilities
WDNR and Superior showed off the recently completed project as part of the annual Lake Superior Day event hosted by the National Estuarine Research Reserve. 
Read the City of Superior press release: Celebrate the greatest lake July 21 on Barker's Island in Superior, Wisconsin


A newly constructed swimming beach being used by visitors at Barkers Island in Superior, WI.