Post Date
September 18, 2019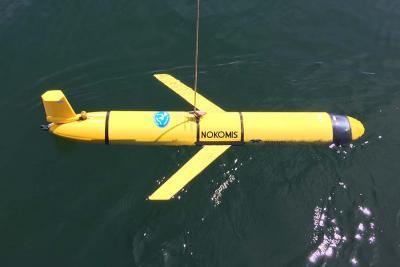 (Sept. 18, 2019) - The U.S. EPA glider Nokomis, an Autonomous Underwater Vehicle, was deployed by EPA's Office of Research and Development in Lake Erie near Cleveland from the US EPA Research Vessel Lake Guardian on September 5, 2019. Since then, it's been cruising transects in the central basin assessing low dissolved oxygen levels, or hypoxia, as part of a larger Cooperative Science and Monitoring Initiative project in Lake Erie also examining late-summer harmful algal blooms. 
The glider is "flown" with coding and sensors to keep it safe and on course. Along its route, it changes buoyancy to ascend, descend and move forward in a sawtooth pattern.
As it travels, the glider records continuous high-resolution data on:
dissolved oxygen
temperature
conductivity (water's ability to conduct electricity)
chlorophyll-a
colored dissolved organic matter, which consists of molecules from decaying animals and plants
optical backscatter (the redirection of light molecules hitting the water)
After a 22-day deployment in Lake Erie, Nokomis will be retrieved by the Lake Guardian on September 27, 2019.
EPA's Great Lakes National Program Office and its activities, such as Lake Guardian surveys and the glider, are funded under the Great Lakes Restoration Initiative.
Learn more on EPA's website: