Post Date
November 27, 2019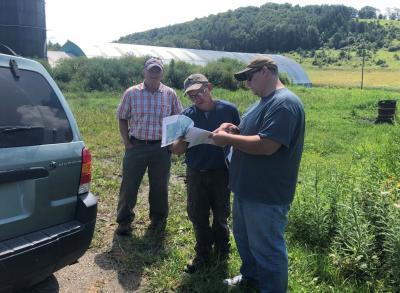 Pennsylvania 2019 GLRI Success Story
(Nov. 27, 2019) The USDA Natural Resources Conservation Service (NRCS) is continuing to work with the Headwaters Resource Conservation & Development Council through a cooperative agreement to establish a demonstration farm network in the Upper Genesee River Watershed in Potter County, Pennsylvania. Pennsylvania State University (Penn State) and Penn State Cooperative Extension are also participants in the network.
Project objectives include:
Establish a network of Demonstration Farms to test the effectiveness of current and innovative conservation systems as they pertain to nonpoint pollution control.
Transfer technology and information on the effectiveness of conservation systems to the end users, land management agencies, agribusiness and the public.
Create opportunities for others to test research, technical assistance and program implementation on the Demonstration Farm sites.
Share information and lessons learned to other natural resource managers, researchers, and stakeholders throughout the Great Lakes basin.
In 2019, two Environmental Quality Incentives Program contracts were signed with farmers who will participate in the network and implement improved forest, pasture and cropland management practices, as well as manure management practices including waste storage facilities and heavy use areas. A third farmer is participating in the network to demonstrate soil health practices on their dairy operation.
A demonstration of improved Heavy Use Area Protection practice was held at the conservation area of Penn State's Agricultural Progress Days in August. Additional demonstrations and four field days will be carried out.
By implementing the conservation practices that are part of this demonstration farm network, projects such as this support the Great Lakes Restoration Initiative goal for reducing nutrient runoff from agriculture.