Post Date
December 20, 2019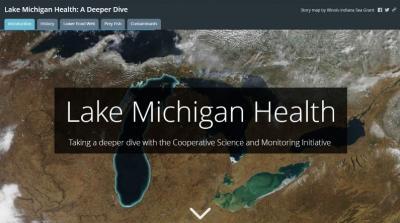 (Dec. 20, 2019) Like many of us, Lake Michigan gets regular health checkups, but sometimes it needs special examinations to get to the bottom of its symptoms. The latest results from some of these evaluations are now available in an ESRI (Environmental Systems Research Institute) Story Map, Lake Michigan Health: A Deeper Dive.
The Cooperative Science and Monitoring Initiative
Lake Michigan: A Deeper Dive was developed by Illinois-Indiana Sea Grant and describes a brief history of the lake. It then presents information on several key areas of study addressed as part of the Cooperative Science and Monitoring Initiative (CSMI) in Lake Michigan from 2015.
The story map presents information through interactive graphics, easy-to-understand diagrams and photos of science in action. In 2015, the most recent CSMI field year in Lake Michigan, scientists focused on the lower food web, prey fish and contaminants in the lake.
Researchers compared their findings to earlier years to map trends in the health of the lake and to assess its current health. The Great Lakes Restoration Initiative supported development of this story map.
Quagga mussels
Key CSMI findings featured in the story map include monitoring of quagga mussels, which have a significant impact on food web dynamics of the lake. Lakewide numbers of quagga mussels have declined, but their biomass has increased as mussels age and grow larger. In deeper parts of the lake, quagga mussel populations increased between 2010 and 2015. Another key finding was that, in general, larval fish are growing about half as fast as they did before quagga mussels were established in the early 2000s. In fact, quagga mussels, by filtering large amounts of plankton, may be having a negative impact on the size of fish.
CSMI's 5-year cycle
Intensive examination of Lake Michigan via the CSMI occurs every five years. The initiative rotates around the Great Lakes so scientists in the region can coordinate their efforts to answer critical questions about each of the Great Lakes.
Each year since 2002, through CSMI, federal, provincial, state, and university scientists have joined forces on one of the Great Lakes to take part in coordinated research. This binational program is organized through the U.S. Environmental Protection Agency Great Lakes National Program Office and Environment and Climate Change Canada in support of the Great Lakes Water Quality Agreement Science Annex.
Lake Michigan in 2020
In 2020, CSMI scientists will once again gather on Lake Michigan for monitoring and testing to assess the health of the lake. To set 2020's research priorities, scientists and resource managers came together in 2018 to discuss the latest findings and to define critical data needs. Over the next couple of years, scientists will report the results of their fieldwork and the CSMI story map will be updated with information from Lake Michigan's 2020 checkup.