Post Date
January 14, 2020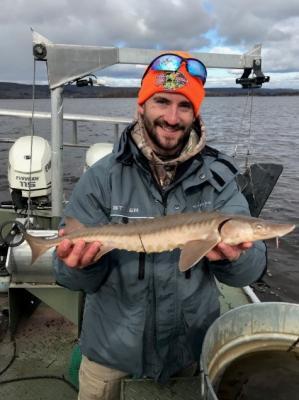 (January 14, 2020) With the support of the Great Lakes Restoration Initiative (GLRI) since it began in 2010, Great Lakes tribes have contributed substantially to the protection and restoration of the Great Lakes. Collectively, these projects total over 500, led by more than 30 tribes over the past decade and have restored over 190,000 acres of habitat and 550 miles of Great Lakes tributaries. These GLRI-funded tribal projects leverage many additional federal and non-funding sources and support critical expertise and employment opportunities in rural Great Lakes communities. In the process, tribal communities vastly contribute towards the protection and restoration of the Great Lakes environment while simultaneously revitalizing ancestral cultures and traditions inseparable from the health of Great Lakes ecosystems.
In Fiscal Year 2019, Great Lakes tribes led efforts to prevent and reduce invasive species impacts, protect and restore culturally important native species and their habitats, and reduce nonpoint source pollution in the Great Lakes. Over the course of the year, these projects protected and restored over 40,000 acres of habitats and over 60 miles of Great Lakes tributaries, while reducing annual input of phosphorus into waterways by over 500 pounds.
Tribally led GLRI-funded efforts helped to prevent the introduction of new invasive species and control the spread of established invasive species in 2019, including:
92 lake surveys for the detection of new aquatic invasive species (AIS)    
Treatment of 55 acres of terrestrial habitat for terrestrial invasive species (TIS) by the 1854 Treaty Authority.
Treatment of 165 acres of TIS.
Removal of over 500 pounds of mystery snail in the Lake Superior Basin including the St. Louis River Estuary by the Fond du Lac Band of Lake Superior Chippewa.
Treatment of 151 acres of invasive phragmites along the shoreline of Lake Tawas, home to the largest bed of wild rice in the state of Michigan, by the Saginaw Chippewa Indian Tribe.
In addition to control efforts, public outreach is a key component to invasive species projects. In 2019, AIS outreach efforts resulted in the engagement of over 800 boaters at boat launches, including the decontamination of over 130 boats and 290 nets (Picture 1) by the 1854 Treaty Authority and Fond du Lac Band of Lake Superior Chippewa.
In addition, tribes implemented over 30 distinct projects in Fiscal Year 2019 to protect and restore native species, many of which are culturally and ecologically significant to the Great Lakes, including Manoomin (wild rice), Namé/Nmé/Teiokientaron (lake sturgeon), Ma'iingan (wolf), Nmégos (Arctic Grayling), Mooz (moose), and Adikameg (lake whitefish). Successes from these efforts in 2019 included:
Continued monitoring and protection for the Endangered Piping Plover on critical habitat in Michigan by the Little Traverse Bay Bands of Odawa Indians, including the monitoring of two adults and enclosure set-up for four nests that resulted in four chicks successfully hatching, being banded, and released (Picture 2).
Continued assessment and restoration of wild rice across the Great Lakes Basin, including documentation and reseeding in Michigan waters by the Little River Band of Ottawa Indians, the Nottawaseppi Huron Band of the Potawatomi, and the Pokagon Band of Potawatomi Indians.
Continued research and management of moose in northeastern Minnesota by the Grand Portage Band of Lake Superior Chippewa, which has resulted in the collaring of 95 moose since 2010 that have provided critical management information about important calving habitats, thermal refuge, and preferred foraging habitats (Picture 3).
The capture and transport to a rearing facility of 867 lake sturgeon eggs (including 89 eggs from a recently constructed spawning habitat) in the Kalamazoo River, of which 236 developed into viable lake sturgeon and were released back into the Kalamazoo River, by the Match-E-Be-Nash-She-Wish Band of Pottawatomi Indians.


Picture 4: Juvenile lake sturgeon from the St. Louis River Estuary. Photo courtesy of 1854 Treaty Authority

The capture and tagging of 11 adult lake sturgeon and the capture and release of over 1,000 larval lake sturgeon during spring spawning assessments in the St. Louis River Estuary (Picture 4) by the 1854 Treaty Authority.
Continued research into effective rearing processes for lake whitefish, which in 2019 included the first release of 110 whitefish raised in the Sault Ste. Marie Tribe of Chippewa Indians' rearing facility into northern Lake Huron waters, with more expected to be released in the spring 2020.
Continued incubation of the endangered Blanding's turtle by the Seneca Nation of Indians for protection and reintroduction into the Cattaraugus Territory in western New York.
To learn more about the broad range of other work tribes have accomplished, please see the 2019 Tribal Great Lakes Restoration brochure (PDF, 40 pp.).