Post Date
January 24, 2020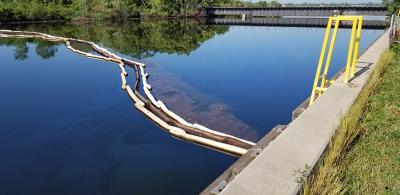 (January 24, 2020)
On November 13, 2019, U.S. EPA, East Chicago Waterway Management District, and Atlantic Richfield Corporation/BP Products North America, Inc. signed a $9M modification to their Great Lakes Legacy Act (GLLA) Project Agreement (PA). The modification provides for additional sediment remediation and source control work in the Grand Calumet River Area of Concern in East Chicago and Hammond, Indiana.
This third modification adds the following tasks to the GLLA project agreement:
1.    Indiana Harbor Dredging Project:  This project will remove approximately 80,000 cubic yards of contaminated sediments from the Indiana Harbor Ship Canal in areas that will not be addressed by U.S. Army Corps of Engineers navigational dredging.  The estimated cost for this work is $8,100,000. Figure 1 shows the proposed Lake George East dredging location.
2.    A $900,000 Land Bridge Project will minimize contaminant and sheen migration in the canal and reinforce the barrier that prevents downstream transport of contaminated sediments into the Lake George Middle Section as shown in Figure 2.
Both tasks will be performed by the GLLA non-federal sponsors as in-kind contributions to the GLLA project.
This third amendment increases the total Project Costs from $26.1M to $35.1M. Capturing this additional work by the non-federal sponsor will leverage GLLA federal funding for additional remediation and restoration work in the Grand Calumet River AOC. GLLA federal funding is part of the Great Lakes Restoration Initiative.