Post Date
February 20, 2020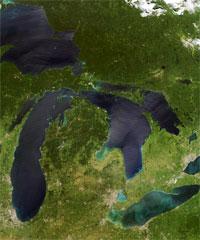 Update September 2020 - Great Lakes Commission awards $1.55 million to reduce runoff into Great Lakes
---
(Feb. 20, 2020) - The Great Lakes Commission is seeking proposals for projects that facilitate the long-term reduction of total phosphorus inputs to waters of the Great Lakes Basin. Funding for the Great Lakes Sediment and Nutrient Reduction Program is provided by the U.S. Department of Agriculture – Natural Resources Conservation Service under the GLRI.
Two grant options are being offered: watershed-scale projects and site-specific projects.
Applications are due 5:00 p.m. EDT on April 6, 2020.
A webinar for applicants will be offered on Tuesday, March 3, 2020 at 10:00 a.m. Eastern to discuss funding priorities and the application process, receive tips for submitting competitive proposals, and ask questions of Great Lakes Commission staff.