Post Date
February 28, 2020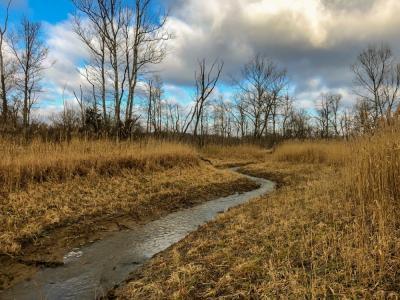 (Feb. 28, 2020) The U.S. Army Corps of Engineers Buffalo District (USACE) substantially completed the Stanford Run ecosystem restoration project located within the Cuyahoga Valley National Park (CVNP) in Summit County, Ohio, in early January 2020.
The Buffalo District restored nearly 1,200 feet of a small stream within CVNP named Stanford Run under the original Stanford Run Restoration Project contract awarded to Ryba Marine Construction Co. The District also awarded a second, follow-on contract to Armitage Architecture, P.C. at the end of September 2019 to continue restoration on the channel, which restored an additional 1,000 lineal feet.
"We're happy to protect our shared environment along with our project partners," said Russell Brandenburg, USACE Buffalo District Project Manager. "Primary work specified in the contract is complete, but minor work such as additional grading and seeding at the disposal area will resume in the spring."
The project is the result of ongoing collaboration between USACE and the National Park Service within the region. The Buffalo District has entered into a multi-year Memorandum of Agreement with the CVNP to provide various engineering services, requested by the CVNP.
Funding for this restoration work was provided over two years through the Great Lakes Restoration Initiative.