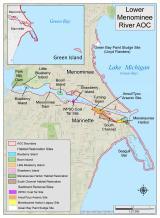 (March 16, 2020) U.S. EPA, Michigan Environment Great Lakes and Energy (EGLE), and Wisconsin Department of Natural Resources (WDNR), with support from the Lower Menominee River Area of Concern Technical and Citizens Advisory Committees, are excited to release the Lower Menominee River Area of Concern draft final delisting report for public comment.
The draft delisting report outlines AOC remediation and restoration work, details on Beneficial Use Impairment removal, and monitoring, and demonstrates that the AOC designation can be removed from the Lower Menominee River.
Significant funding for the pollution cleanup and restoration work was provided by the GLRI, administered by the U.S. EPA. Wisconsin and Michigan share responsibility for the river's rehabilitation, and the states have worked closely with each other and with local citizens to address pollution and habitat loss.
Public comments will be accepted March 9 - April 24.
Public meeting webinar Thursday, April 9, 5:00 - 6:00 PM
Please register for the webinar
EPA has already sought input from tribal representatives and the International Joint Commission and incorporated these comments in to the draft delisting report. Seeking and incorporating public input is one of the final steps before the delisting process is complete.
To learn more about Lower Menominee River AOC, for public meeting information, and to comment on the report: