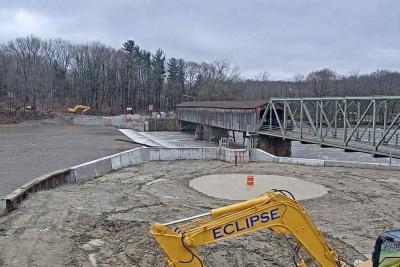 The U.S. Army Corps of Engineers, Buffalo District, has completed all major work within the Grand River on the Harpersfield Dam Sea Lamprey Barrier project.
The work, which took place in the town of Geneva, Ohio, was supported with funding through the Great Lakes Restoration Initiative and non-federal partners, including the Great Lakes Fishery Commission, Ashtabula County Metroparks, and the Ohio Department of Natural Resources.
The new 326-foot long solid concrete sea lamprey barrier replaces the old hollow core dam structure within the Harpersfield Covered Bridge Park. Final grading and restoration will continue through the summer and fall.
This project prevents invasive sea lamprey from accessing approximately 600 miles of the Grand River and its tributaries, upstream of the Harpersfield Dam. It also reduces the need to apply lampricide treatments above the dam, which saves approximately $335,000 per treatment and eliminates potential harm to some non-target species. The project also has the potential to decrease the sea lamprey population in Lake Erie, which would improve the sustainability of valuable fisheries resources.
For more information, contact Andrew Kornacki (andrew.a.kornacki@usace.army.mil) 716-879-4349