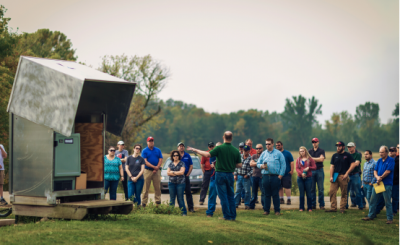 A new article describes how the Natural Resources Conservation Service (NRCS) uses GLRI funding to restore the Great Lakes.
The article appears in La Voz, the newsletter of the National Organization of Professional Hispanic NRCS Employees. It highlights NRCS conservation efforts across the country.
The author is Dr. Edwin Martinez Martinez, a Natural Resource Specialist and GLRI coordinator for NRCS. He describes the purpose of the GLRI, the accomplishments NRCS has achieved with GLRI funding, ongoing GLRI projects, challenges faced in restoring the Great Lakes, and other conservation efforts implemented by NRCS in the Great Lakes region.
Accomplishments include supporting more than 2,700 contracts to help farmers and private landowners implement conservation practices in over 613,000 acres of Great Lakes Basin priority watershed land and protecting over 7,900 acres of wildlife habitat.
Ongoing GLRI-funded projects include work with the U.S. Geological Survey on edge-of-field water quality monitoring to determine the benefits of different conservation monitoring techniques in priority watersheds.