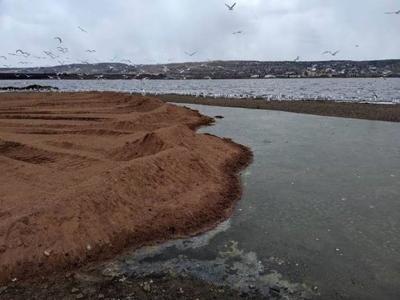 The Interstate Island Avian Habitat Restoration Project in the St. Louis River Area of Concern began in April 2020. The project will restore habitat for a colony of Common Terns, which are a migratory species listed as threatened in Minnesota and endangered in Wisconsin.
This restoration project is necessary for the removal of the Degraded Fish and Wildlife Populations Beneficial Use Impairment in this AOC. The island straddles the Minnesota and Wisconsin state line between Duluth and Superior and is jointly managed by both states.
The habitat at Interstate Island has been reduced by approximately 50% in recent years due to flooding and high-water levels. Restoration will occur before and after the tern nesting season in 2020.
In April, flooded nesting areas of the island occupied by a colony of the Common Terns' natural predators, Ring-billed gulls, were elevated. The project will increase space for the gulls in order to reduce predatory pressure on the terns.
In September and October, the Common Tern nesting area will be rebuilt, creating an embankment at a higher elevation to reduce flood risk. In addition, the U.S. Army Corps of Engineers will expand the island to approximately double its current size, using clean dredge materials from yearly navigation channel operation and maintenance dredging.
Minnesota Land Trust is managing this project for the Minnesota Department of Natural Resources and its partner the Wisconsin Department of Natural Resources. Federal partners include the U.S. Environmental Protection Agency, U.S. Fish and Wildlife Service, and the U.S. Army Corps of Engineers.
The work is funded by the Great Lakes Restoration Initiative, the U.S. Fish and Wildlife Service, and the Minnesota Outdoor Heritage Fund.
St. Louis River Area of Concern
Slide show of Common Terns on Interstate Island (MN dNR)
Common Tern - Species of Concern (US FWS)