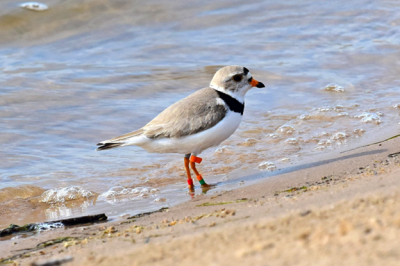 The U.S. Army Corps of Engineers and Wisconsin Department of Natural Resources, working with Great Lakes Restoration Initiative funding on behalf of U.S. EPA, completed placement of over 87,000 cubic yards of sand dredged from the Duluth/Superior Harbor to increase the beach habitat to 14 acres.
The St. Louis River Estuary historically supported breeding populations of the endangered Piping Plover. This action increased piping plover stopover and nesting habitat in support of a St. Louis River Area of Concern goal for removal of the Degraded Fish and Wildlife Populations Beneficial Use Impairment.
The project is located in Superior, Wisc. on the Wisconsin Point Bird Sanctuary. The site has been a designated wildlife refuge since the 1980s and access is managed during the Piping Plover nesting season.  
Many partners collaborated on the project design and implementation:
City of Superior
Fond du Lac Band of Lake Superior Chippewa
St. Louis River Alliance
University of Wisconsin Sea Grant
U.S. Army Corps of Engineers
U.S. Environmental Protection Agency
U.S. Fish and Wildlife Service
Wisconsin Department of Natural Resources
Future plans for the project include habitat monitoring and maintenance, such as planting native dune grass and invasive species control, and protection from predators, as needed. 
Fact Sheet about this project from Wisconsin DNR (PDF,2 pp)
(Wisconsin DNR) St. Louis River AOC